---
London's Best Bars & Restaurants for Non-Alcoholic Drinks & Cocktails
AUTHOR LOUISE AVERY / PUBLISHED: SEP-2022
---

One of the hardest things about stopping or cutting back on drinking alcohol can be the feeling that you're missing out when eating & drinking out. If the alcohol-free options pale in comparison to your usual drink order - whether it be a beer, wine or cocktail - this can easily make you reconsider your choices to drink dry. We're pleased to tell you that it doesn't always have to be that way. More and more, there are fantastic non-alcoholic options & creations on drinks menus to pair brilliantly with food, or simply as enjoyable tipples to accompany your social plans. You just need to know where to find them. So, here are our Top 9 Bars & Restaurants for Non-Alcoholic Drinks & Cocktails in London...
#1 Dishoom: For the Flavour Fiend
#2 Mercato Metropolitano: For the Socialite
#3 Barrio: For the Party Animal
#4 OMNOM: For the Englightened
#5 Caravan: For Anytime of the Day
#6 Park Chinois: For Far East Flair
#7 Coppa Club: For Clubhouse Vibes
#8 GRIND: For the Simple Pleasures
#9 HAWKSMOOR: For Steak Night
If you've ever eaten at Dishoom, you'll know that it's one of those places where you want to try everything on the menu. This happens to be true of their drinks menu, too, which includes an entirely separate menu for virtuous non-alcoholic drinks.
Similar to their cocktail menu, the teetotal menu includes options to suit every stage of the meal: pre-meal aperitifs, traditional sharbats or sodas (our Citrus Hops kombucha included) to pair with food, and digestif style mixes for after you've eaten. And, rather than trying to exactly replicate alcohol, each tipple is a unique drink in its own right and full to the brim with adventurous flavours.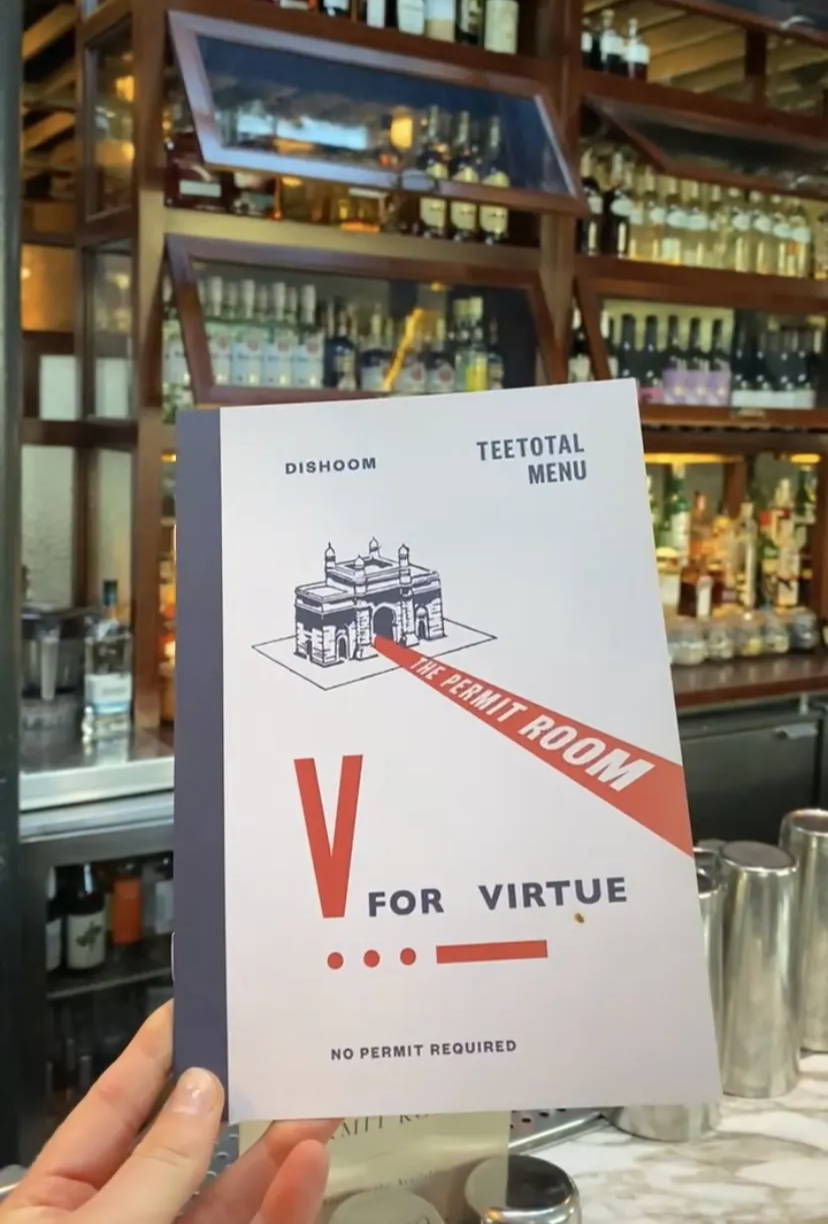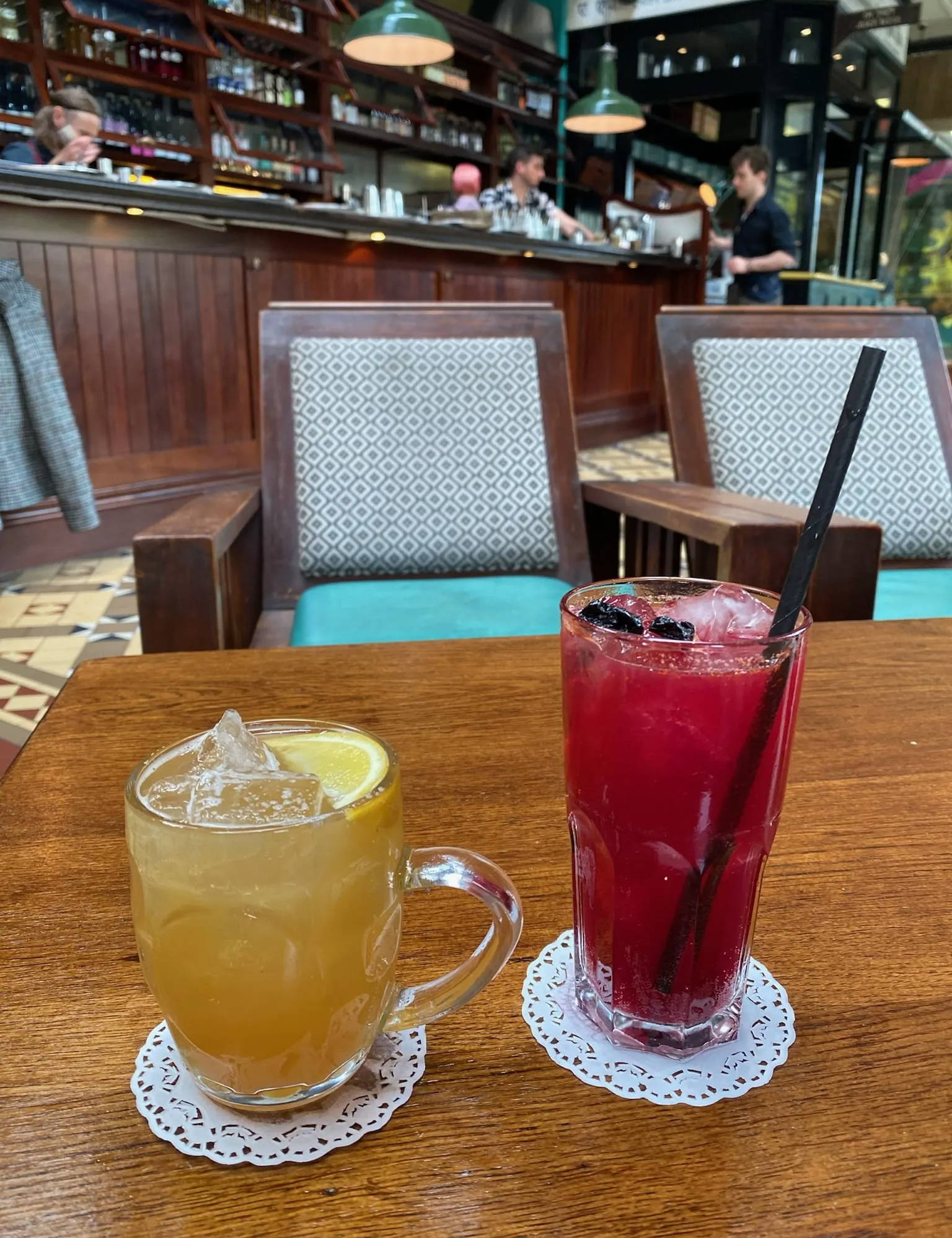 In the spirit of catering for every stage of your meal journey, we would recommend:
Pre-meal aperitif: SOBER NEGRONI
Both for negroni fans and the unconvinced. Homecrafted non-alc chai vermouth & gin, bitter sweetness & a touch of fizz.  
During your meal: KALA KHATTA SHARBAT
A flavour journey in itself. Sour, salty, spicy, sweet & refreshing.
Post-meal digestif: TEETOTAL ESPRESSO MARTINI
The best we've had yet. With a fiery twist from fresh ginger & spices.  
With the choice, variety and hustle & bustle of a true market, Mercato Metropolitano in Elephant & Castle is a hidden haven for groups, or even an eclectic date spot. Wind your way through the outdoor brewgarden, indoor markethall and everything in between to find 5 drinks stalls dedicated to cocktails, wine or beer - and non-alcoholic options to boot.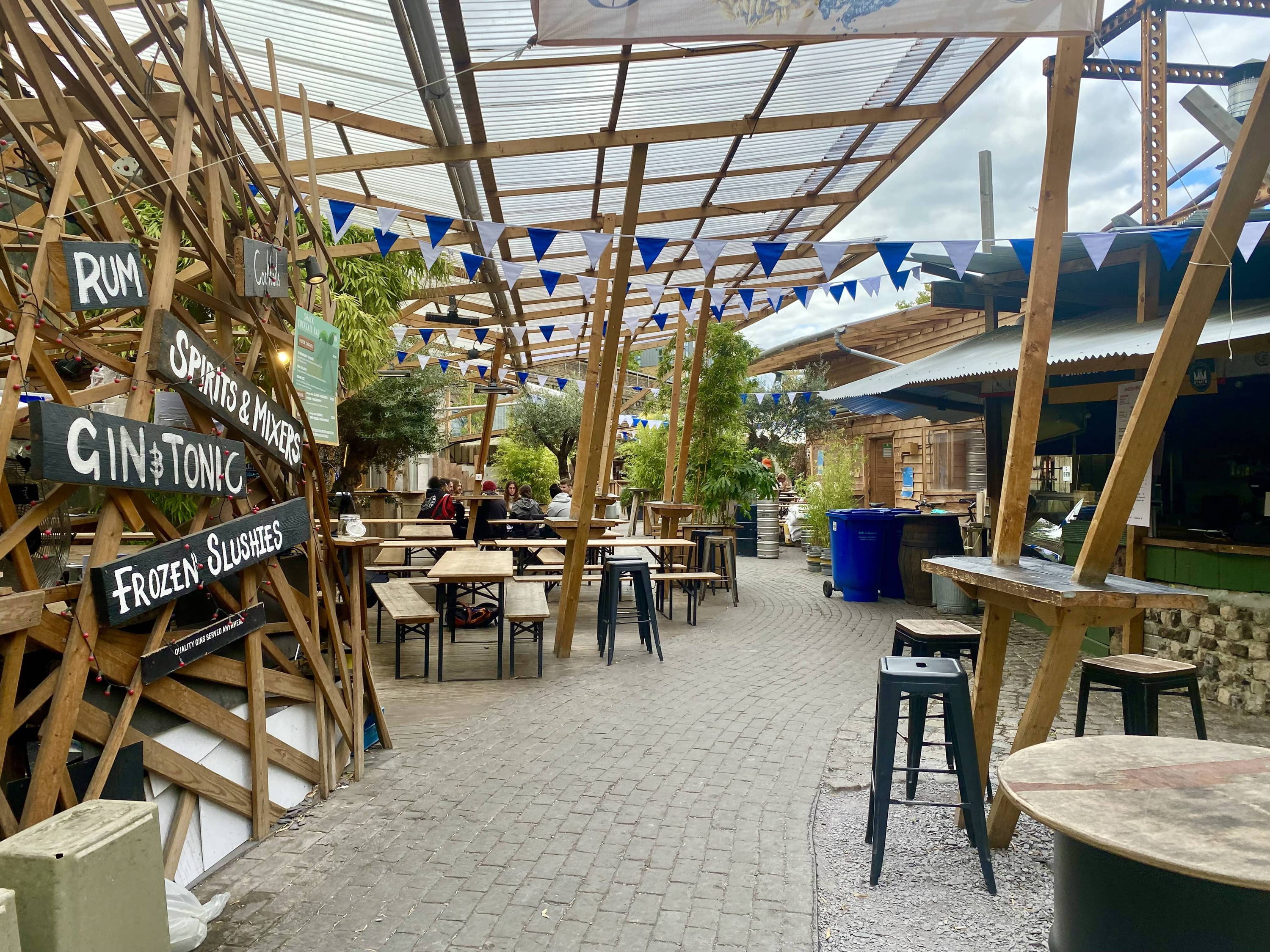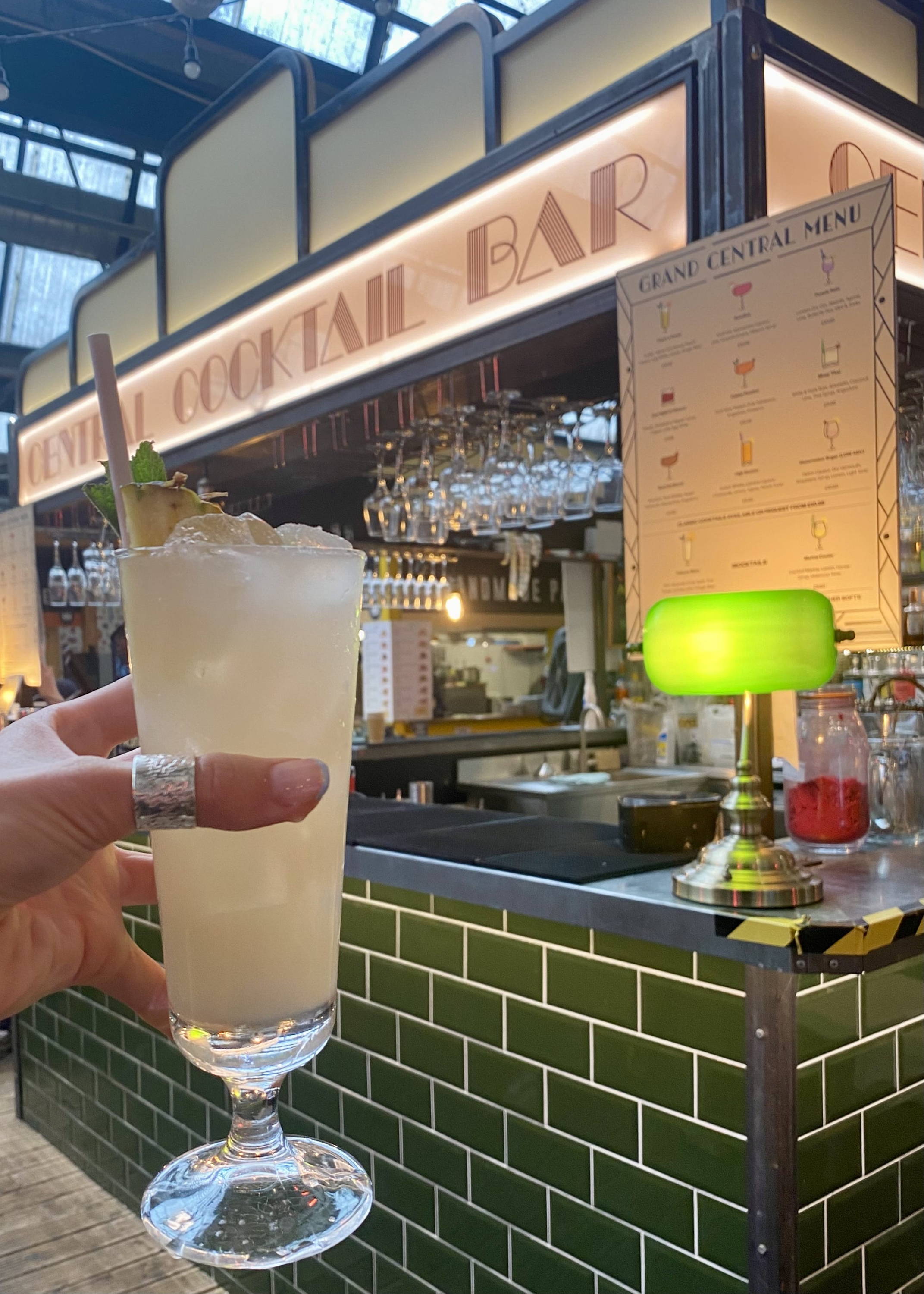 We found ourselves gravitating towards tropical cocktails, no doubt due to the diverse almost holiday-esque feel oozing from the space. A non-alcoholic Piña Colada from Ethika bar could be the best we've had in London, and would perfectly complement Rudie's Jerk Caribbean food. Hakuna Mata from the central cocktail bar sent us to South East Asia featuring lychee, Thai syrup, citrus, ginger & Lyres spirit - zingy and thirst quenching. Top tip: Don't miss the music theatre tucked away in the corner where you'll find a funky hall decorated with all sorts of musical nic nacs & live music most nights.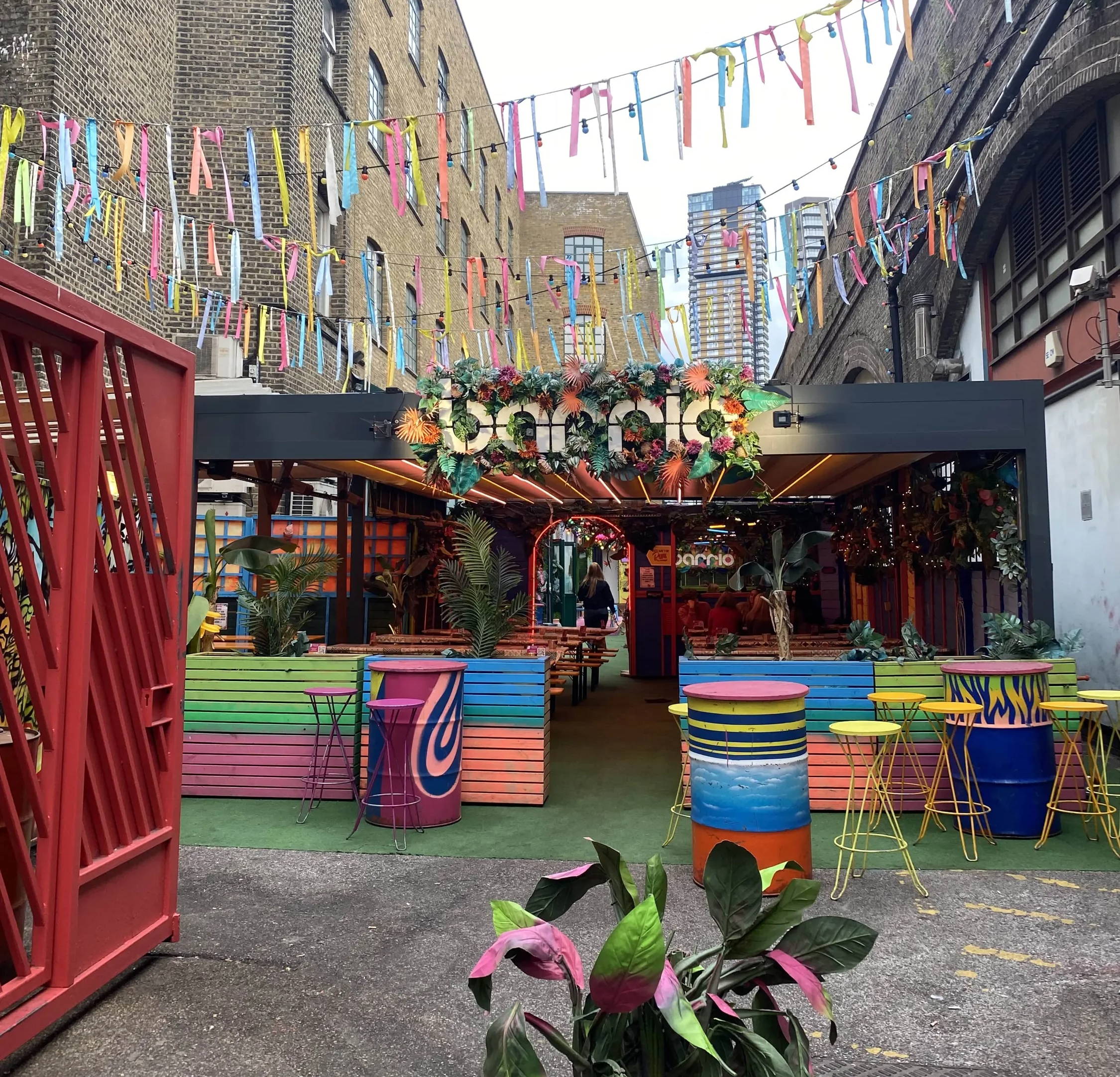 A night out at one of the 6 Barrio bars across London can be associated with loud, crazy & colourful Latino flavours and energy. We know that being sober doesn't mean you have to miss out on that, and so does Barrio. All Barrio bar menus have a "be saintly, make it alcohol free" option on a variety of their cocktails at just £6.50 each.
Some of the saintly options include the Che Guava & Mexican Vice, Barrio twists on a mojito & a piña colada.

In true Barrio style, we went for the most colourful option on the menu, the Maria Maria. Warning: if you don't have a sweet tooth, this one isn't for you! Cherry, pineapple, raspberry, lime topped with a cloud of candy floss and washed down with a shot of lemonade for good measure.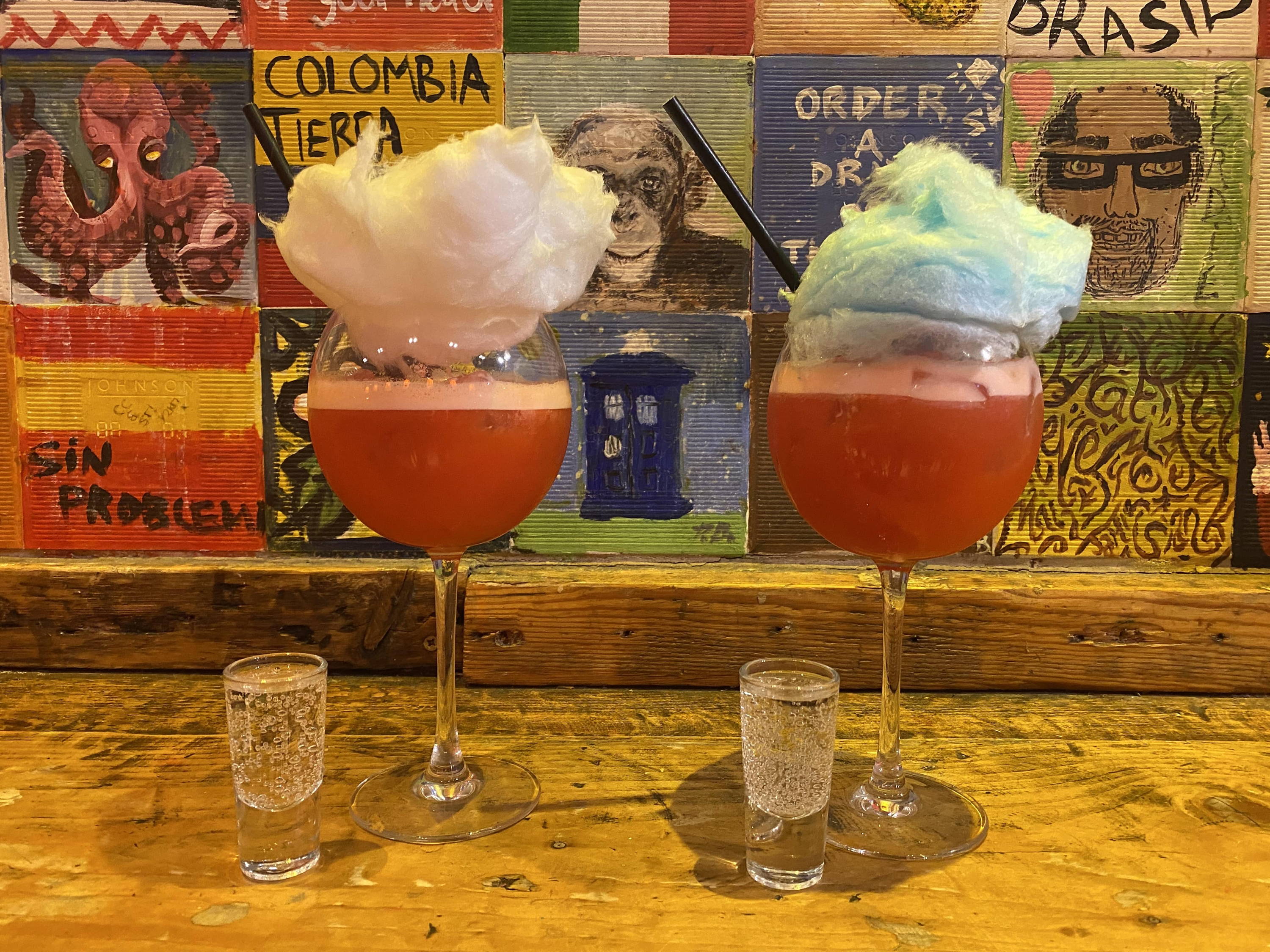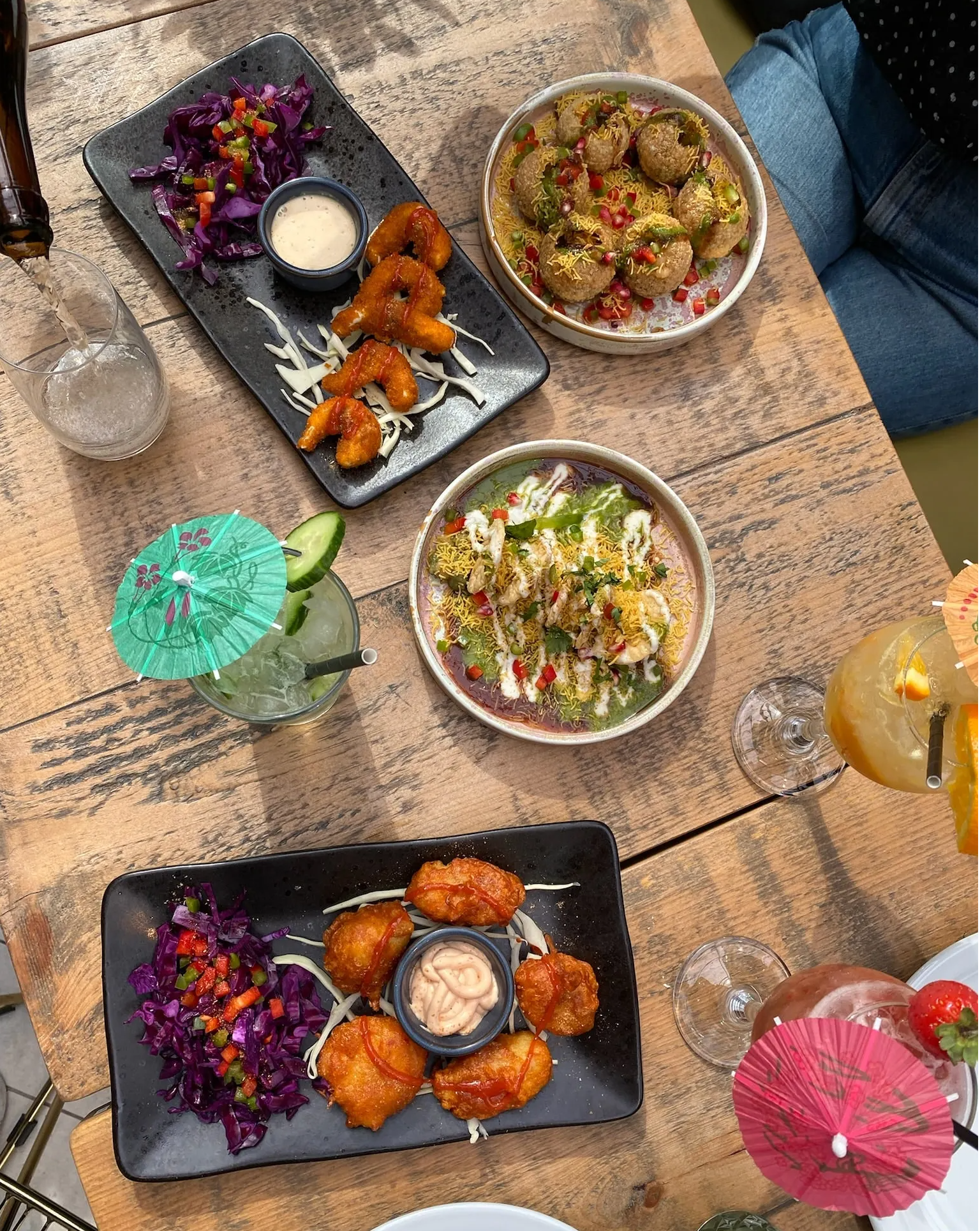 OMNOM in Angel is a unique not for profit, grass roots community promoting health & wellbeing whilst also providing healthy meals to those in need. Partnering with Namaste restaurant, OMNOM boasts a colourful menu inspired by the East.
In line with its 'Enlightened' or mindful ethos, OMNOM started as a vegan & non-alcoholic restaurant. Only recently has some paneer (the only non-vegan ingredient available) and alcohol (wines, beers & cocktails) crept onto their menu, but they maintain a huge array of non-alcoholic & healthy drinking options to suit all palates. Our favourites included...


Modi Mojito: named after the current Indian prime minister, a blue, zingy ginger twist on a mojito.

Kombucha (obviously!): Our Citrus Hops & Lemongrass are favourite pairings for OMNOM's light bites.
Lassis: traditional Indian yoghurt smoothies.
To pair with your drinks of choice, the Masala Puri and the Surti Papdi Chaat are must-haves.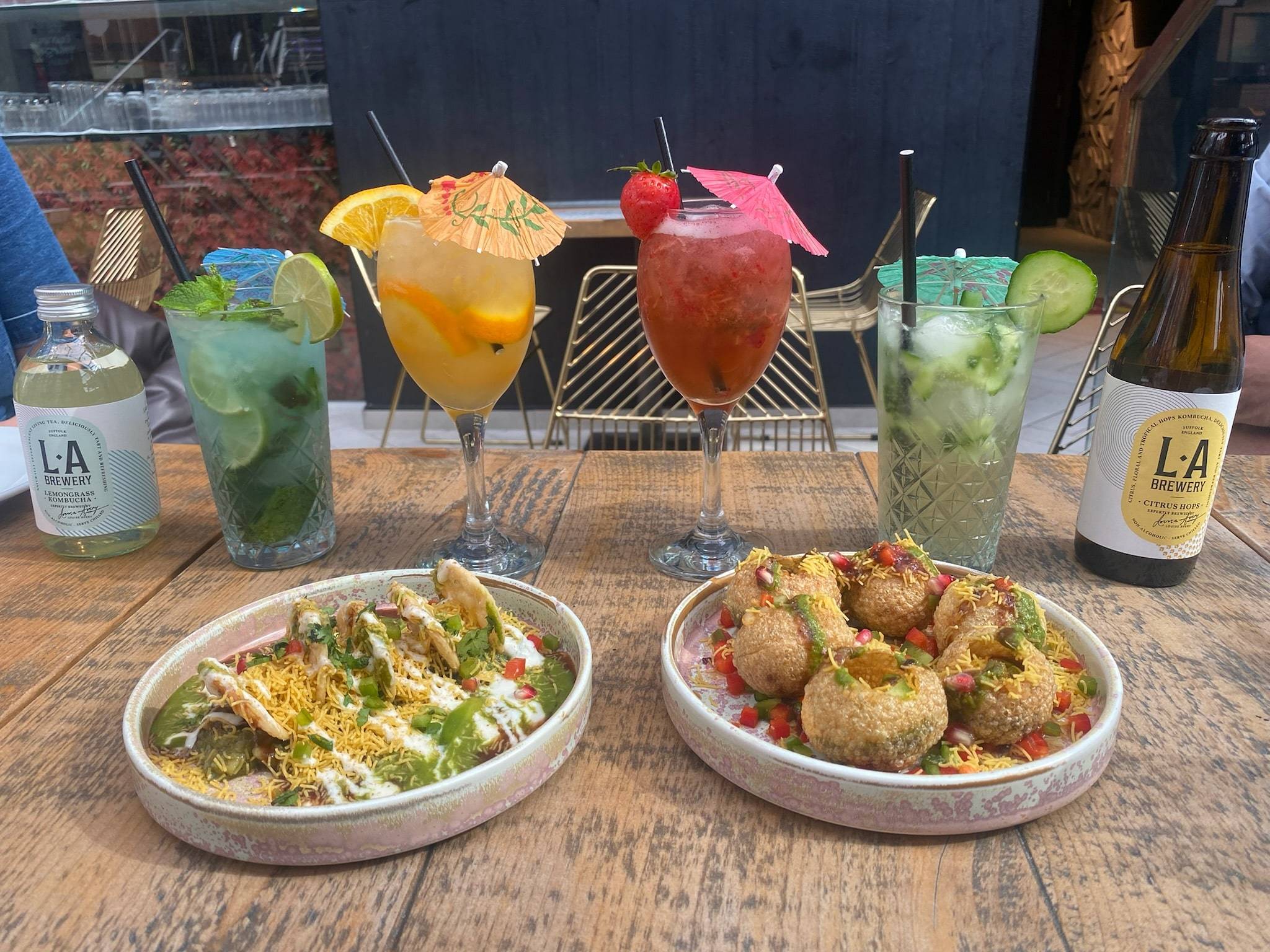 - #5 CARAVAN: FOR ANYTIME OF THE DAY -

We've long been fans of the Caravan family for their ability to satisfy at any time of the day, and now pretty much around any corner in London.
A full day at Caravan could start with fruit & cereal or pancakes, followed by baked eggs or a fry up, and on to tapas-style sharing plates & pizza. All accompanied by coffee and delicious drink options.
On the non-alcoholic cocktail menu, Caravan cover the key cocktail pillars: a Sour, a Spritz and an Espresso Martini.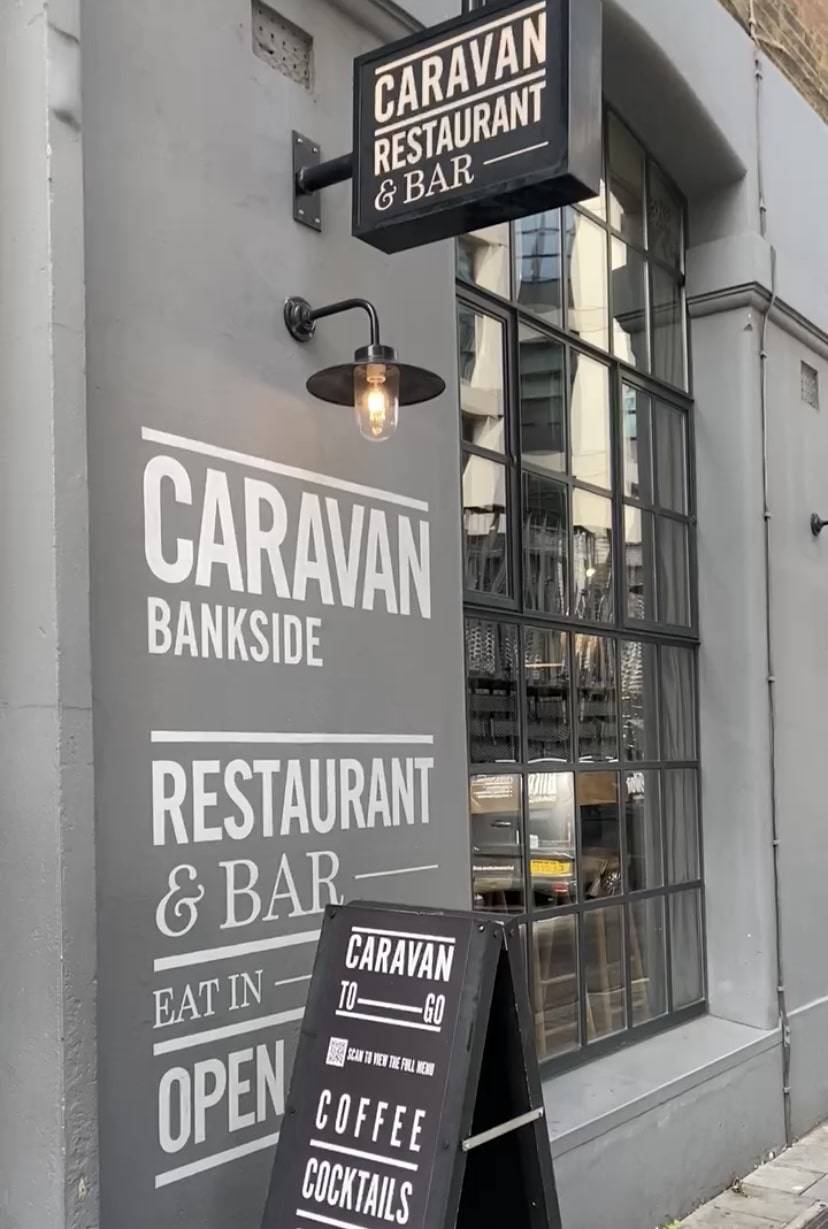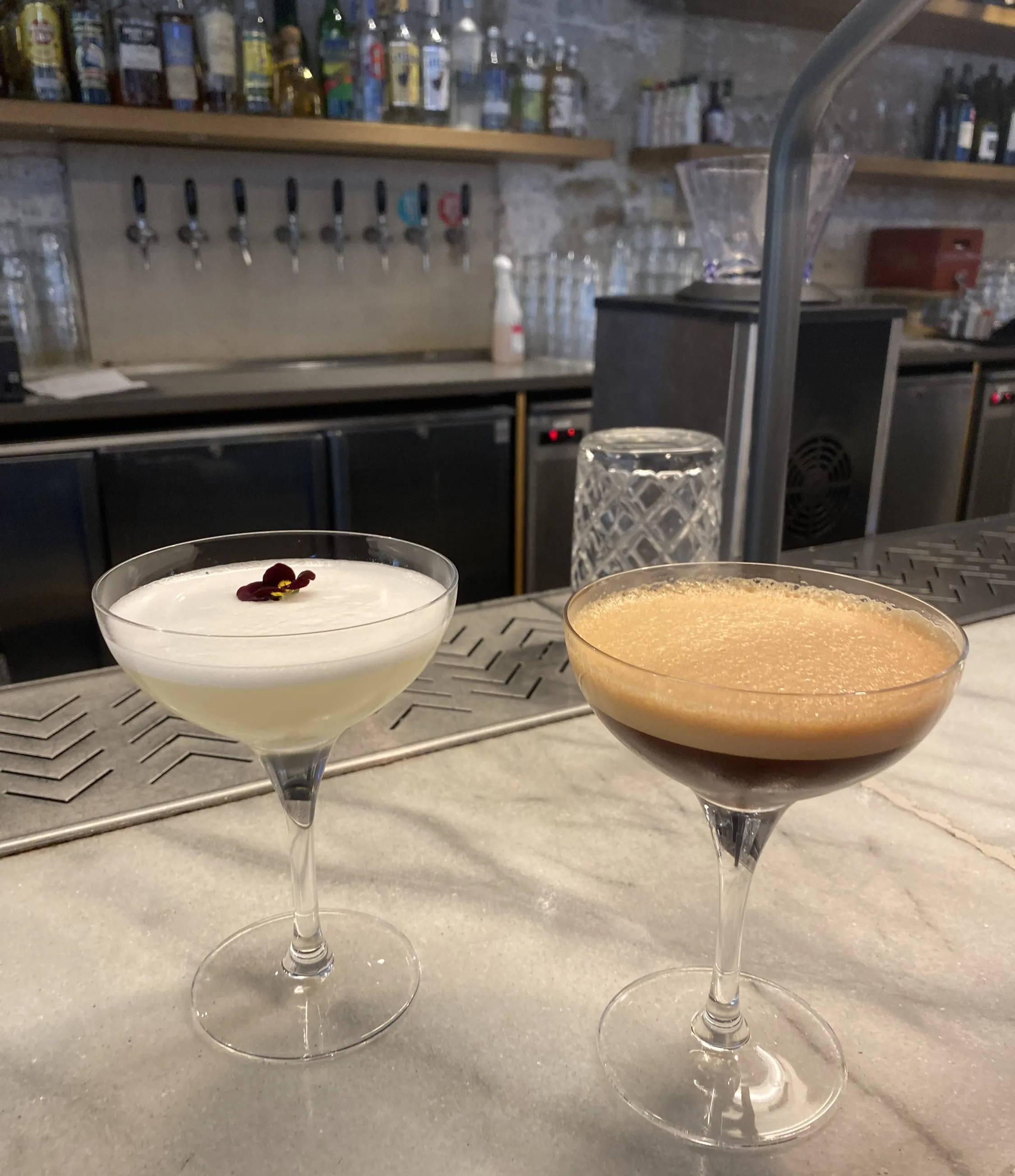 The Stryyk it Sour came out on top for us, light, zingy, floral & foamy (aqua faba foam, so vegan!), a drink that could be enjoyed at any stage of your all-dayer at Caravan.
For Espresso Martini fans, the Caravan non-alcoholic option is a unique one. Using Three Spirit Social Elixir as the alternative to vodka, the martini takes on herbal & fruity notes that you might not expect from an espresso martini. Social Elixir is said to elicit a blissful feeling from natural ingredients such as lion's mane mushroom & yerba mate - one for the curious!    
Stock up on L.A Brewery for your non-alcoholic nights in