---
How to Cut Down on Alcohol
- 10 Top Tips
AUTHOR ABBIE MOULTON / PUBLISHED: FEB-2022
---

Mindful drinking, no-and-low lifestyle, sober-curious, zero-percenters… however it's described, there's no denying this rising movement. Every year, more and more people are making the decision to drink less, either by cutting out alcohol completely, or by consciously reducing the amount they drink.
While moderation has become something on the minds of the many, not the few, you may be wondering, why cut down on drinking? What are the benefits of reducing alcohol intake? And where do we start? We've got the answers, the insights, and the advice to easily change your drinking habits in our guide to going alcohol-free or simply drinking a little less in 2022.


WHY CUT DOWN ON DRINKING?
Hands up if you tried Dry January and enjoyed it so much you're keen to keep the good habits going? In January 2022, a record 7.9 million of us were estimated to have taken part in the challenge, according to the charity Alcohol Change UK. That's risen by over a million on last year's 6.5 million participants, with the data suggesting that 86% of participants save money, 70% have better sleep and 66% have more energy. And who doesn't want a healthier bank balance, zest for life and radiant, well-rested skin?
Whether it's down to wanting to make more time for the things that matter in life, getting out into the beautiful outdoors, making time for activities and culture, getting ahead with work, or simply enjoying good conversation with friends and mornings without hangovers, there are plenty of reasons for cutting back or going alcohol-free.


Cutting down on alcohol doesn't have to mean limiting valuable social connections, or sacrificing on flavour.
WHAT ARE THE BENEFITS OF REDUCING ALCOHOL?

If living a hangover-free life weren't enough, there's an abundance of benefits to cutting out alcohol:


More energy

Better sleep

Younger looking skin

Staying more hydrated

A clear head and better decision-making

Saving money

Better focus and concentration

Higher levels of productivity

Greater sense of achievement

More confidence (free from any alcohol-induced self-loathing

Overall improvements in mental health and general wellbeing


Studies have shown that cutting down on alcohol for even a matter of weeks has all kinds of benefits for our body, like lower blood sugar, reduced cholesterol and lower risk of diabetes.


DO I HAVE TO CUT OUT ALCOHOL ALTOGETHER TO FEEL THE BENEFITS?

It doesn't have to be all or nothing - even reducing alcohol intake by a few units on a regular basis makes a difference.
 Cutting down on alcohol also doesn't have to mean limiting valuable social connections, or sacrificing on flavour. As advocates of the mindful drinking movement, we've got lots of tips and hacks to show you just how easy, and delicious, going alcohol-free can be.
Whether for the short term or long term, cutting out alcohol completely or simply choosing to drink "less but better" reducing your intake is good for your physical, mental and financial health. And lots of us are discovering the benefits.
 
THE RISE OF THE ALCOHOL-FREE MOVEMENT

With record numbers of us going sober (or sober-curious) and lifestyle choices showing big reductions in alcohol consumption, we have officially entered the age of the alcohol-free movement. And that means it's easier than ever to reduce your drinking. With more alcohol-free alternatives and plenty of communities to connect with, anyone can do it.


HOW TO CUT DOWN ON DRINKING
So now you know the reasons why, we'll show you HOW to cut down on drinking, with our top ten tips for reducing alcohol intake.
TOP 10 TIPS FOR GOING ALCOHOL FREE
1. Plan Your "Why" and Note Down Your Goals
We've listed some of the many reasons why people choose to give up alcohol above, but it's helpful to have your own personal motivations at the forefront. Getting fit for a sports event? Looking for brighter skin? Want to be more productive at work or give your business a boost? Write your motives down now and they'll help you to stay on track.  
2. Tell Your Friends and Family
Holding yourself accountable by telling people you're taking some time to go alcohol-free will not only help to keep you on track, it also lessens the chances of arriving for dinner plans to an already-opened bottle of wine, or being included on a round at the pub. You never know, a few friends might even join you…
3. Stock Up on Alternatives
It goes without saying, but having lots of alcohol-free alternatives to hand makes things easier. And thanks to the growing "no-and-low" movement, there have never been so many delicious choices. From distilled alcohol-free spirits to booze-free beers and food-friendly alternatives to adult soft drinks like craft kombucha (our range is designed with complexity and depth of flavour in mind), today's tee-total tipples are full of flavour and feel grown up. You can safely step away from the lemonade, there's a whole drinks cabinet to explore, with not a hangover in sight.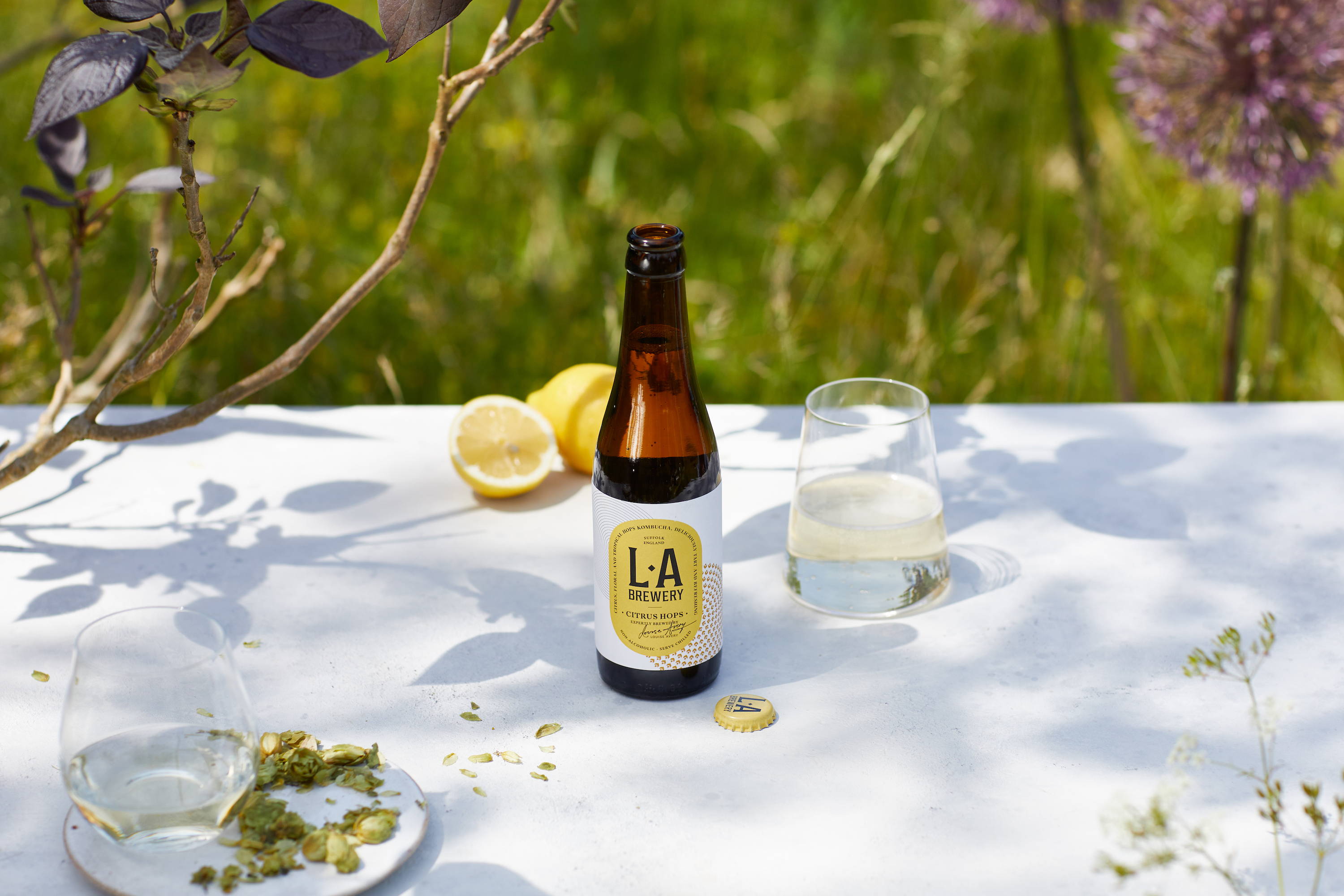 Our Citrus Hops has the citrus, floral and tropical notes of a New England IPA combined with the sweet acidity of kombucha. Plus, it's in a beer bottle to give the sense of occasion we often crave late afternoon or early evening.
4. Mark the Moments
There are just certain times of the day and the week that we've come to associate with - and indulge in - a drink. You know the ones - that glass of wine after work on a Friday, the cold beer on a hot summer's day, a G&T on a Saturday afternoon. It can sometimes feel like we lean on alcohol to mark these occasions, but just because you're not drinking doesn't mean you should miss out on those moments. The ritual of pouring a refreshing drink at the end of a busy work day really does the trick. We find a glass of Sparkling Blush or Citrus Hops kombucha at 6pm can really quench that thirst for alcohol. Look for drinks designed with layers of flavour to work with food, and seek out bubbles to add that special something.
5. Connect to a Community
Find your group - if your friends aren't ready to give alcohol-free life a go, that's fine. You won't be alone because, as a growing movement there are a host of wonderful groups joining the alcohol-free revolution.
Take a look at Sober Girl Society for an encouraging community plus events and meetups, Club Soda for inspiration and real-world connections (not to mention the occasional alcohol-free festival) and Sober Grid for coaching and conversation with others joining in the sober journey.
6. Keep Track with Apps
We've all had that moment when the doctor asks how many units of alcohol we drink per week, and then looks surprised with the answer. Well, now you can reply with pride.
Keep a record so you can track your progress over time. Tally up how much you usually drink - be honest - versus how much you've had in the last month.
Using apps to keep track of your progress means you can carry that feeling of well-deserved gratification with you. Feeling bouncier, with more time for the things you love? Note it down. "Try Dry" from Alcohol Change UK lets you track your progress, mood and financial savings and uses streaks to help you stay on track. We also love "Reframe", which uses Cognitive Behavioural Therapy and other tools to support you in your effort to build healthier drinking habits. Not just for Dry Jan either, use these to keep your healthy habits going all year long.
7. Make a List of Alcohol-Free Bars and Restaurants
Going out-out is one of life's great pleasures, and just because you don't want any alcohol in your drink doesn't mean you should miss out on any of the fun. With millions all across the UK choosing to banish the booze, it's no surprise that bars, restaurants and mixologists are getting on board. 2022 even saw the launch of the UK's first alcohol free off-licence. Hunt down and make a list of the best places, grab your gang and get tasting.
8. Get Creative with Alcohol-Free Cocktails
Curb your alcohol intake, not your love of cocktails, by having fun and experimenting with different drinks brands and mixers at home. Play with flavours, and get friends over. Why not try recreating alcohol-free versions of your favourite cocktails?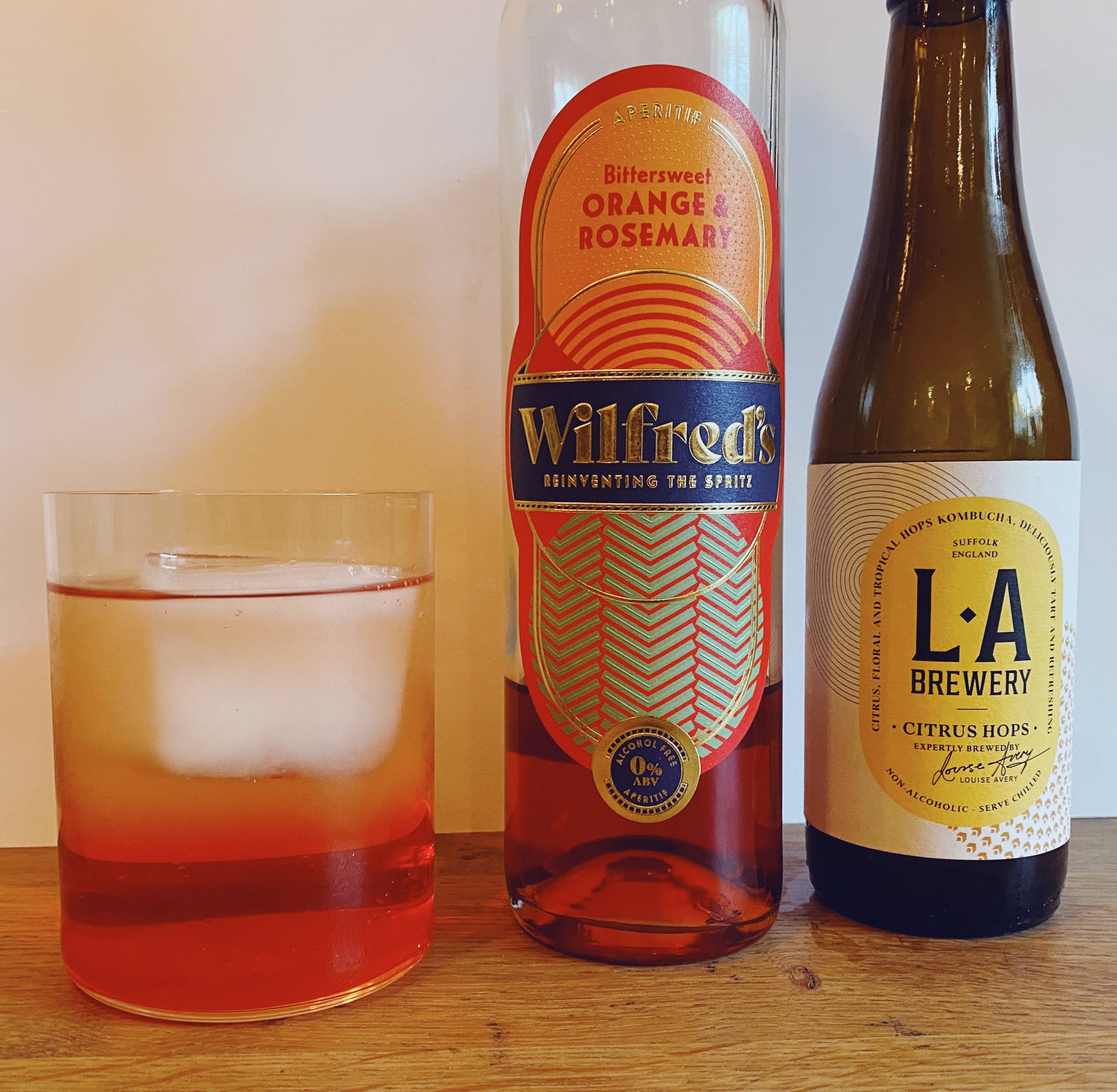 Whether you're a pro at shaking up cocktails at home or just after an easy non-alcoholic alternative to classic mixed drinks, there's something for everyone. Our personal favourites are the Pear & Ginger Sour, perfect for those after a drink that's low in alcohol but high flavour. Can't get enough of the taste of hops? Try your hand at making a Hoppy Negroni. Finally, for the ultimate brunch drink, give the Clementine Buck's Fizz a go.
9. Treat Yourself
Made it through a week, a month, more? Not only have you saved money but you've done your body good. Why not treat it to a massage or book in that PT session you've been meaning to. At L.A we love an LED facial for some mindful pampering. It's important to reward ourselves for good work, and rewards hack our brains into wanting to keep going.
10. Progress not Perfection
Had a moment and reached for a glass of wine? It's ok. Mindful drinking is about making decisions and choosing when, or whether, to drink. It's easy to pick your good habits straight back up again - don't let "perfect" get in the way of "good".
Stock up on L.A alternatives to alcohol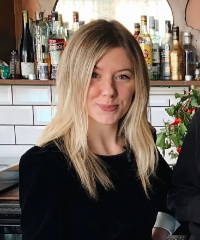 Abbie Moulton:
Writer. Eater. Storyteller.
I've always been obsessed with food and fascinated by flavours. Nothing makes me happier than digging into a great meal, elbows on the table, passing dishes back and forth between friends while swapping tales of our favourite food memories.
I have a drinks column with the Evening Standard and you can find my words online at http://www.abbiemoulton.com/ 
I was nominated Young British Foodies 'Fresh Voice in Food Writing', and I'm always on the hunt for a good story.