Seasonal Plants Foraging Guide & Recipes | L.A Brewery
---
Seasonal Plants
Foraging Guide & Recipes

AUTHOR LOUISE AVERY / PUBLISHED: APR-2022
---
---

'SPRING IS NATURE'S WAY OF SAYING, LET'S PARTY!' 
- Robin Williams 
Spring is a beautiful time of year for new beginnings or keeping up good habits from the start of the year. Nature is coming back to life and offers an abundance of delicious ingredients for the feasts of the Easter break.    
Louise loves Springtime because there is an abundance of young wild nutritious plants (weeds especially) that are incredibly tasty and inspire creative drinks making or pairing. Think cleavers (sticky willy) and fresh mint infused in water for a refreshing tonic to detox and cleanse the lymphatic system. 
We've pulled together some of Louise's favourite Spring plants & recipes using foraged ingredients from the wild: 


SPRING FORAGING & FEASTING

What's amazing about these wild 'weeds' is that they are disproportionately high in vitamins and minerals when compared to their cultivated counterparts. For example - nettles have the highest protein content (25%) of all wild plants as well as being packed with iron, calcium, magnesium, zinc, copper (the list goes on).  More nutritious than kale and spinach. Wild garlic is another superfood, a natural antibiotic, detoxifying, lowers blood pressure & cholesterol.
 
Look (& smell) out for wild garlic and its unmistakable garlicky scent. The wide-leafed greens are in abundance in undisturbed woodland areas from March through to early Summer. The leaves are available all season, and more commonly used in recipes, but the plant's delicate white flowers are also a decorative and flavoursome addition to spring salads. We can't get enough of wild garlic pesto in the Spring – Louise loves to blend it with stinging nettles for a truly foraged pesto packed with benefits. Great with grilled vegetables, or stirred through pasta – a fresh wild version of what we know pesto to be.
  
Wild Garlic & Nettle Pesto Recipe 

INGREDIENTS
Large handful of wild garlic
Small handful of nettle tips  
40g Pistachios 
40g parmesan 
1 Lemon 
100ml olive oil 
Salt & Pepper 
METHOD
1. Wash your wild garlic & nettles separately in a colander
2. Gently wilt the nettles in a pan with a splash of water (to remove the sting
3. Lightly toast your pistachio nuts
4. Blend the wild garlic, wilted nettles, pistachios, olive oil & parmesan together
5. Add lemon juice & seasoning to taste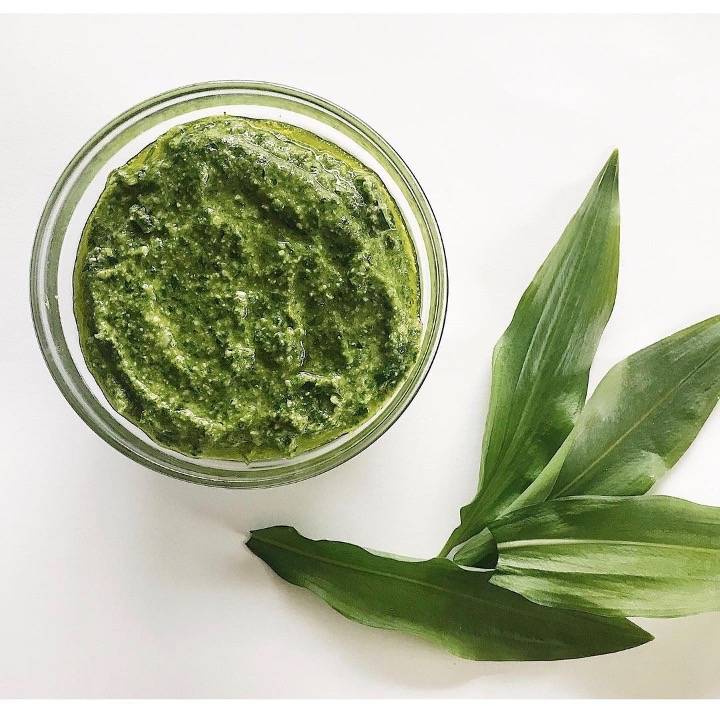 SPRING SPARKLING

We've added a brand-new non-alcoholic sparkling English blush to the L.A collection. Like all our drinks, it is sustainably made using natural fermentation that brings all the complexity of a sparkling wine. It's packed with live, gut-friendly cultures and is naturally low in sugar. 
  Throughout Spring & over Easter, our drinks offer an alternative to alcohol at the feasting table, or a more interesting and complimentary soft drink accompaniment to food. 


Dandelions are one of the first indicators of Spring, starting to bloom from early April. The entire dandelion plant is edible and contributes many benefits to health but is often overlooked in Spring recipes. Throw the heads into a salad or wilt the greens with garlic and chilli. Louise's dandelion syrup is a floral nectar full of vitamins A, B12 as well as antioxidants – use yours in mixed drinks (we love a dash in our Sparkling English Rose) or drizzled over something sweet…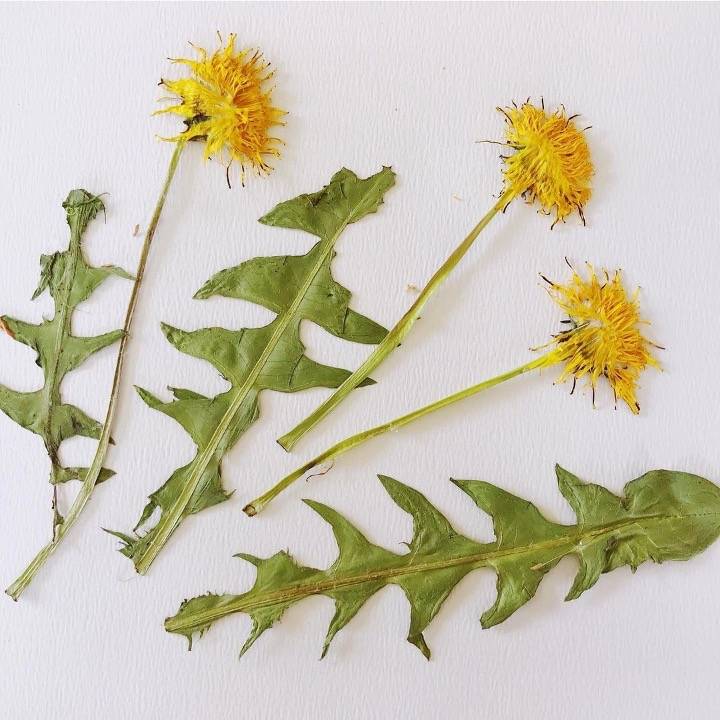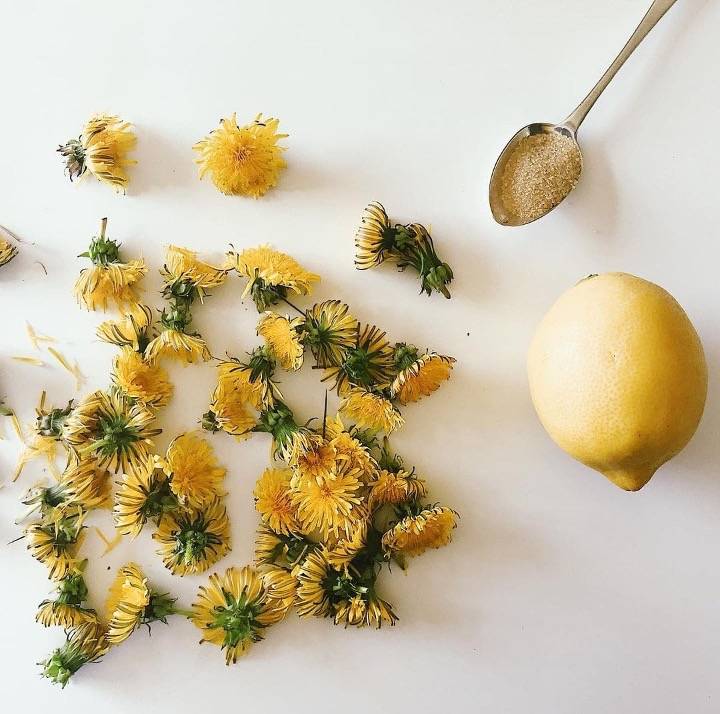 Dandelion syrup recipe: 
INGREDIENTS: 
2 cups of dandelions 
Water 
Sugar (or honey) to taste 
½ a lemon 

METHOD:
1. Wash and remove the petals from your dandelion heads using a small knife (this should make 1/2 cup's worth of petals)
2. Cover with water and bring to the boil. Take off the heat and leave to infuse overnight.
3. Strain through a sieve, discarding the petals. 
4. Simmer the liquid for 10-20 mins adding some sugar (or honey) and the juice of 1/2 a lemon.
5. Simmer until syrupy.
6. Once cool, bottle.  
 Appearing mid-April to May, three-cornered leeks are one of the surest signs of spring. Easily identified by their delicate white bell shaped flowers with a distinct green stripe running through each petal. Commonly found throughout the UK in hedgerows, waste ground, gardens, and sprouting from the pavement. 
The whole plant is edible - roots, flowers, flower buds, leaves & flower stems – with a subtle onion-garlic flavour, similar to spring onions but a little sweeter. Eat raw in salads or sprinkled over pasta dishes. Or gently cook for a tasty addition to soups. Louise likes to eat them like chives cut over potato salad.
 
Three-Cornered Leeks Potato Salad Recipe: 
INGREDIENTS:
New potatoes 
A glug of white wine vinegar 
1 tsp Dijon mustard 
100ml olive oil 
A large handful of three-cornered leeks 
METHOD:
1. Cover your potatoes with salted cold water and boil for 15 minutes or until tender 
2. Wash your three-cornered leeks and finely slice (like chives)
3. Mix your vinegar & mustard together and slowly whisk in the olive oil
4. Add your three-cornered leeks & season to taste 
5. Halve & toss the potatoes with your dressing and serve warm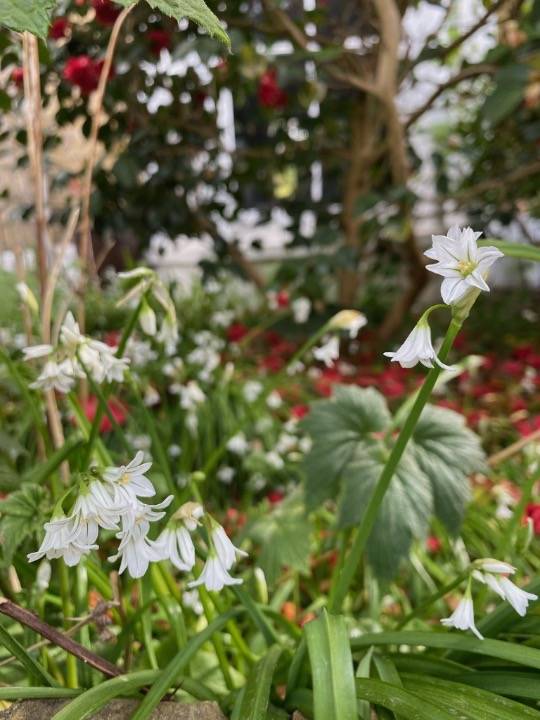 The golden flower of the gorse plant has a coconutty scent & unique vanilla-floral flavour. Gorse dominates hedgerows & roadsides all throughout spring. It's the perfect base for a country wine, cordial or mixed into your bread dough.
Be careful when picking yours, we'd recommend using gloves to avoid the sharp spines.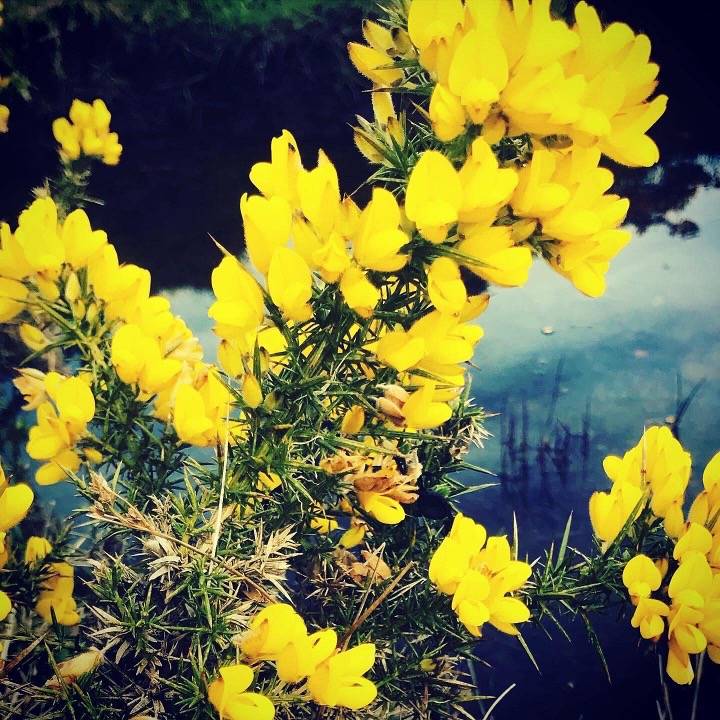 Gorse Flower Cordial Recipe: 
INGREDIENTS:
Water 600ml 
Sugar 200g 
Gorse flowers – enough for about 2 cups petals 
Citrus of choice (we like clementine) 
METHOD: 
1. Add your water & sugar to a pan and bring to a boil. Let simmer for 15 minutes or until turning syrupy
2. Wash your gorse flowers in a sieve
3. Zest & juice your citrus fruit
4. Add your gorse flowers, citrus juice & zest to the sugar syrup, and leave to cool & infuse overnight
5. Strain your syrup through a muslin cloth
6. Boil your strained liquid for 3-5 minutes & bottle. 
We discovered Alexander on a foraging walk with Lucia from The Wild Kitchen. We can almost guarantee that you've seen Alexander in your local hedgerows, the tops look like a cross between cow parsley & elderflower, while the root and stems taste similar to celery.

You can braise, steam or stir-fry Alexander stems for a side of fresh and earthy greens.  
Lucia let us sample her genius seasoning: dried alexander pollen. The green powder tasted like celery, mustard & fennel combined – a delicious savoury seasoning that we'd love to try our hand at making soon.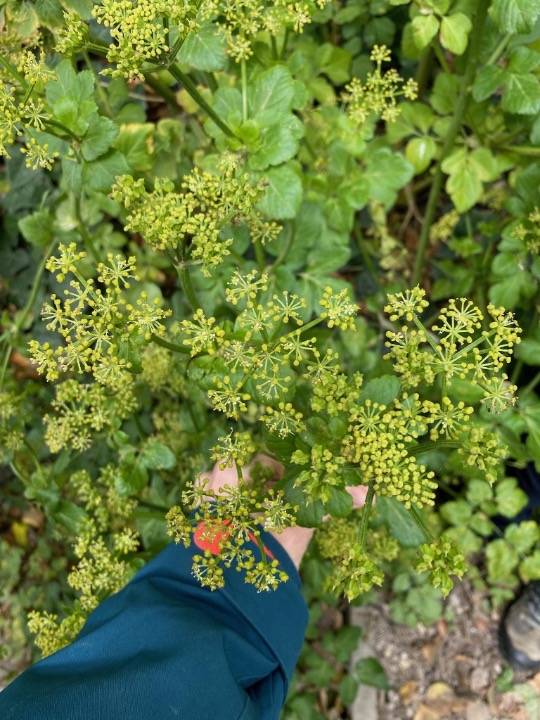 6. STICKY WILLY / CLEAVERS / GOOSEGRASS 
You will find Goosegrass around on the edges of woodland paths all throughout the year, but it's perfect for a Spring cleanse. Infuse your water with Goosegrass for a tonic that helps to detoxify the lymphatic system and reduce any gland swelling.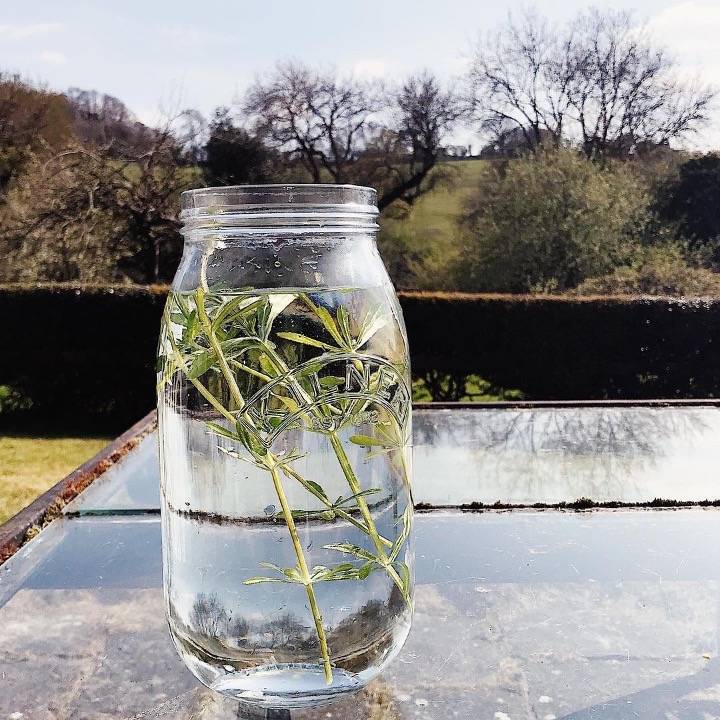 Spring Tonic Recipe
Simply pick your Goosegrass, wash, add to a jug of water and infuse for a minimum of 20 mins or overnight for a cleansing tonic.
Louise loves hers infused with mint, but you could use citrus peel or cucumber too depending on your preference. 
Also referred to as 'May Blossom', Hawthorn Blossom was traditionally used as a herbal remedy for the heart. The Hawthorn tree begins to blossom from May Day (1st of May) through to early June. Not to be confused with Blackthorn which blossoms earlier through April before its leaves appear after winter.
Hawthorn blossom adds a marzipan-vanilla flavour to cordials, jellies and liquors.
Hawthorn Cordial Recipe
INGREDIENTS:
6 cups blossom (stems removed)
1-2 cups sugar (sweeten to taste)
Juice and zest of citrus fruit (we like lemon)
Water

METHOD: 
1. Add your sugar and equal parts water to a pan and bring to a boil. Let simmer for 5 minutes or until starting to thicken
2. Wash your hawthorn flowers in a sieve
3. Zest & juice your citrus fruit
4. Add your flowers, citrus juice & zest to the syrup, and leave to cool & infuse overnight
5. Strain your syrup through a muslin cloth
6. Boil your strained liquid for 3-5 minutes & bottle.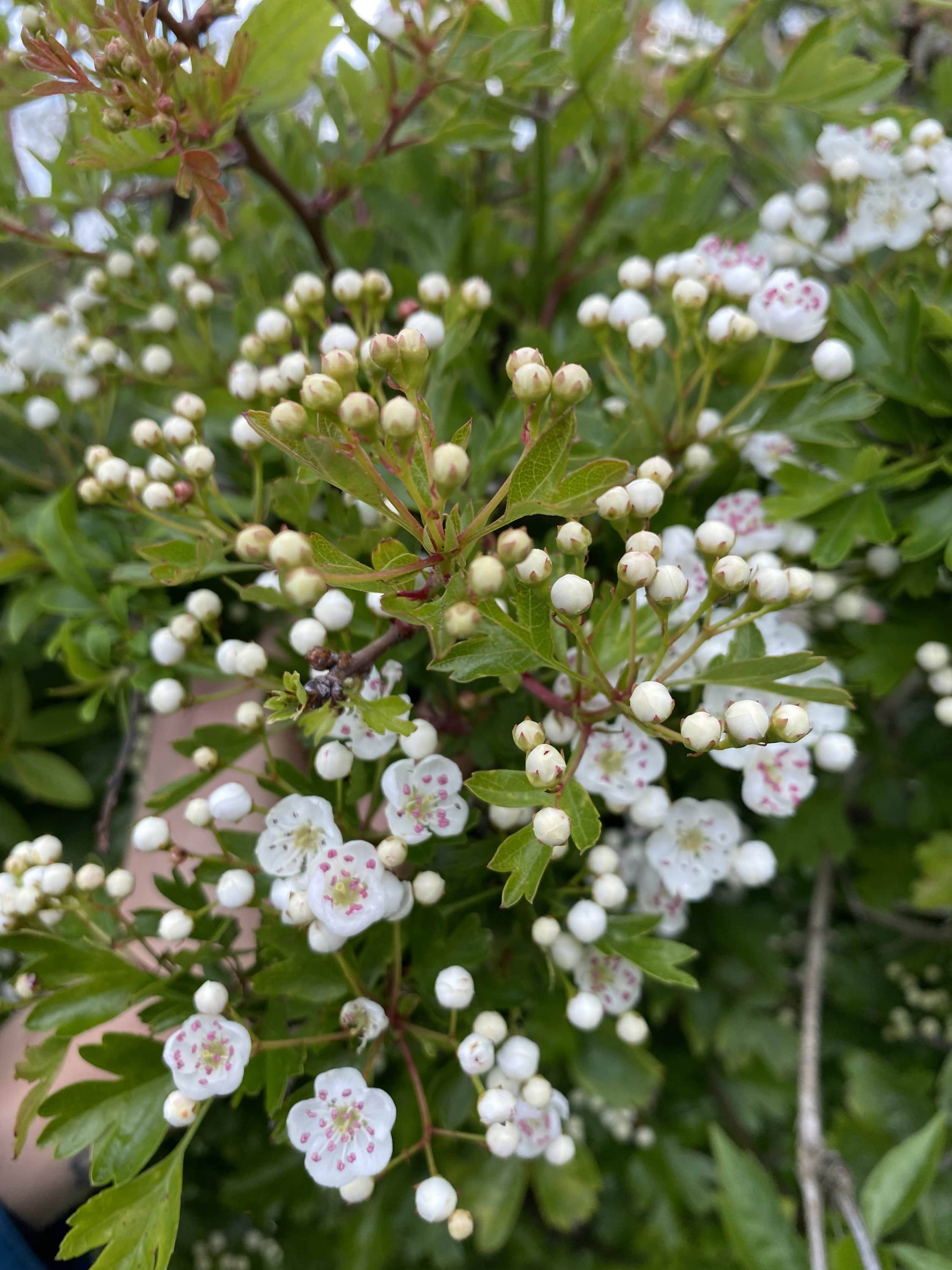 Oxeye daisies start to appear in May and flower through the Summer. Find these giant daisies in meadows, on verges and field margins. Unexpectedly juicy and aromatic, you can eat them raw in salads, or preserved by candying or pickling.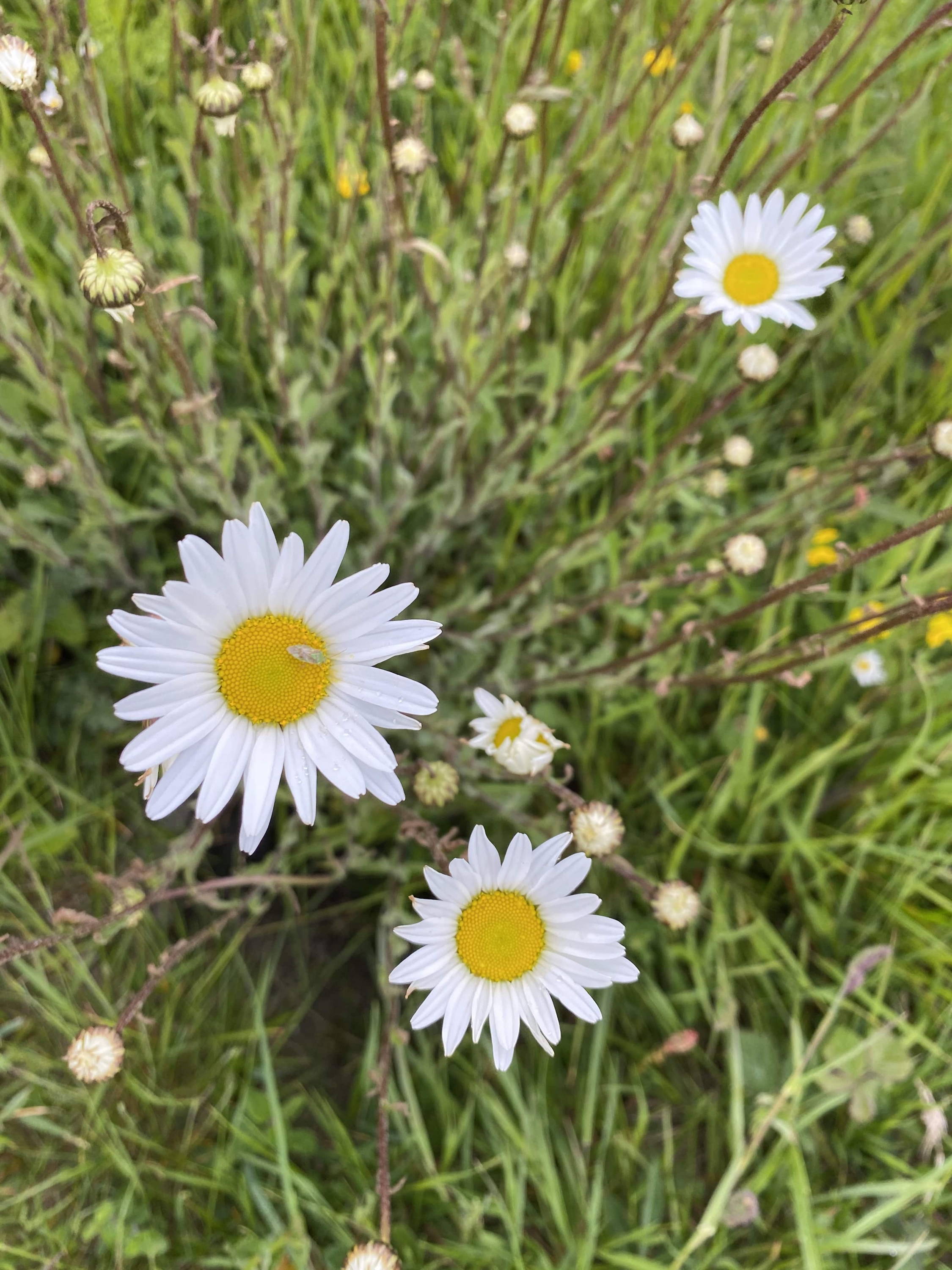 Ox-eye Daisy 'Capers' Recipe
(pickled ox-eye daisies)
INGREDIENTS:
1 cup oxeye daisies
1 cup vinegar (we use cider)
1/4 cup sugar
1/4 tsp salt
1 tsp mustard seeds
Water

METHOD:
1. Cover your daisies with water in a pan and bring to a boil. Simmer for 5-10 minutes and strain.
2. Add your daisies to a sterilised jar.
3. Add your vinegar, sugar, salt & mustard seeds to a pan and simmer for 5 minutes. This is your pickling liquid.
4. Pour your pickling liquid over your daisies and seal the jar.
5. Leave for at least 1 week and eat within 1 month of opening.
Wild fennel grows prolifically in coastal areas where the ground is dry, while also being found on roadsides and verges further inland. The strongest of the fennel family in taste, its sweet aniseed flavour adds life to spring salads & pasta dishes.  


Wild Fennel & Rocket Pesto Recipe
INGREDIENTS
Large handful of wild fennel fronds
Small handful of rocket  
40g Pistachios 
40g parmesan 
1 garlic clove
1 Lemon 
100ml olive oil 
Salt & Pepper 
METHOD
1. Wash your wild fennel fronds and add to a blender with the rocket.
3. Lightly toast your pistachio nuts.
4. Blend the fennel fronds, rocket, pistachios, garlic, olive oil & parmesan together
5. Add lemon juice & seasoning to taste


A coastal green packed with flavour and nutrients, sea beet is one of our favourite greens for stir frying. You'll find sea beet in coastal areas on the edge of pavements, between rocks and sand dunes.


Easy Chilli & Garlic Sea Beet recipe
INGREDIENTS:
Large handful of sea beet
1 chilli, chopped
1 clove of garlic, crushed
Knob of butter

METHOD:
1. Wash your sea beet and remove any very thick stems.
2. Melt butter in a pan on medium heat.
3. Fry garlic and chilli for 2 minutes or until fragrant.
4. Add your sea beat and stir fry until wilted.
5. Serve with grilled fish, chicken or tofu dishes.
---
Keep your eye out for our top Summer foraged plants & recipes coming soon...


Stock up on L.A Brewery for your Spring pairings